Our Team
We search for dedicated people who have a huge passion for sharing their energy with others, who have a good heart and loads of enthusiasm. It's not about how well you can dance, it's about how much you can inspire other people to move.
Kate
Founder and Platinum Master Instructor
Kate (Katarzyna Mortoń) is a Sport and Fitness instructor certified by the Ministry of Sport and Recreation of Poland.

She has been teaching all kinds of group lessons (strength, endurance, cardio, power, creative sessions, calm and dynamic) and she has been leading personal trainings since 2006 in Poland, England and Belgium. She does this next to her other professional activities related to media, journalism and civil society. From 2012, she has also been teaching dance classes. Her experience is comprehensive and her philosophy is holistic: she believes that all different motions of the body (training) are complementary to each other. She looks at motion in a multidisciplinary way and emphasises the importance of the psychological aspects of training and self-care and how these affect your energy.

She is the founder and CEO of Partyrobics Fitness, an international dance-clubbing-fitness brand, as well as of the Chair Dance Express concept. Kate coached/trained over 200 instructors in various classes, including her own concepts (dance and fitness) and regular fitness concepts, while growing a network of instructors.

She also works with dancers and fitness instructors and introduces them to the Body Expressive Methodologies she created (4 Energy Flows Theory, Deepening Teaching Method, etc.), that take away the attention from steps/performance and focus on the transition of energy and an inner feeling of motion.

Her concepts are at the moment taught on 25 locations in 3 countries. She has worked with important dance and sport organizations such as International Formula Windsurfing, Sport Vlaanderen, De Gymnastiekfederatie Vlaanderen (GymFed) and the Dance League of Belgium. Her projects were extensively covered by media including ELLE, Flair Magazine, Het Laatste Nieuws, Notelle TV, RTL Radio, the Belgium's Got Talent Show, as well as the Canadian Metro and radio shows.

She delivered team-building workshops and body confidence sessions to some of the biggest Belgian companies (Telenet, Ikea, Partena), organised non-profit events for youth and women and voiced herself on matters of body confidence in public debates.

You can read more about her full activities here: www.katarzynamorton.com
Emily
Master Instructor
Emily Coppens is curious and likes to mix disciplines, ideas and concepts, and her life is, therefore, a combination of everything that pleases her. She loves art in all its possibilities, and needs to share her extensive knowledge: she teaches drawing, dance, fitness, and the art of decorating cakes, cupcakes and other creative desserts. She opened her own cupcake shop (www.milypat.be) and she makes sure that all her activities remain open to new things. Partyrobics® is obvious to her, because of its mix of dance styles and music, and because of its combination of speed, cardio, fitness, dance and improvisation. She became a Master teacher and simply needs Partyrobics® in her life. She says: "Partyrobics® is just so obvious to me: I can't imagine not having it in my life."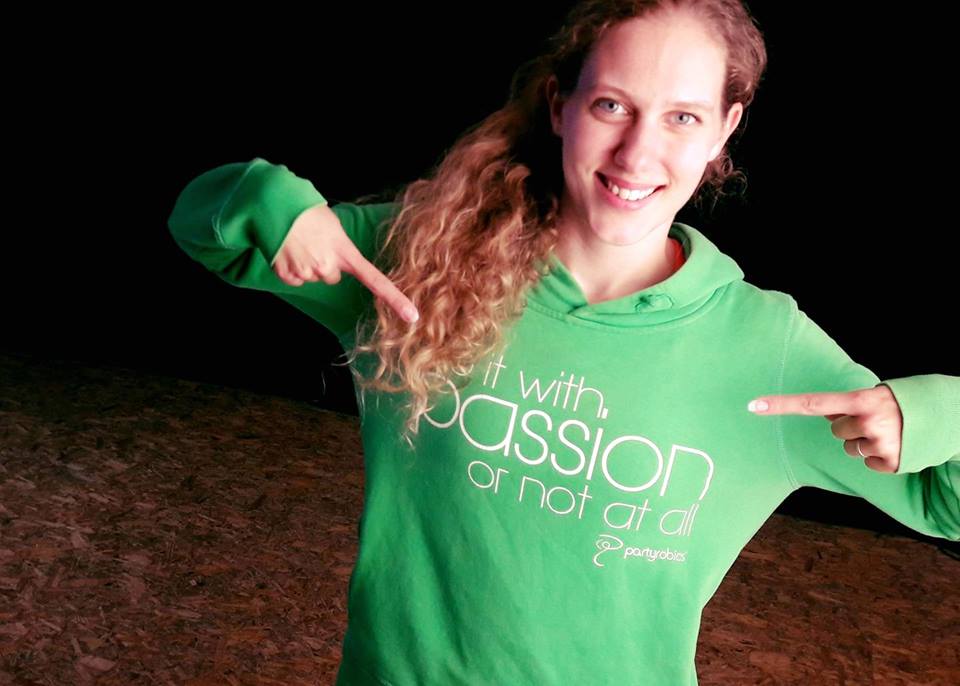 ESTHER-ELLEN
Master Instructor
Esther-Ellen is driven by her two two passions: music and dance.
She holds a master's degree in music from LUCA School of Arts in Leuven and obtained her teaching certificate. She is a dancer in the neoclassical "Danscompagnie ChoreoAtelier" working with Karen Pauwels, and a teacher in several fitness centers doing all kinds of group lessons, from fat burning, aerobics to BBB and more. She is also Partyrobics® Master Instructor, one of the concept's main choreographers and a part of the managing team.
Her mission is to challenge people to step out of their "comfort zone". At the same time, she creates for her students a safe, fun atmosphere that allows everyone to clear their head from their worries and let it all go! Having fun and feeling good are key points in her way of teaching.